So what happened on 12th December?
The 3 Million group of EU Citizens in the UK combined handing in a  letter to No.10 Downing Street with the release of the report by British Future; while doing a media blitz.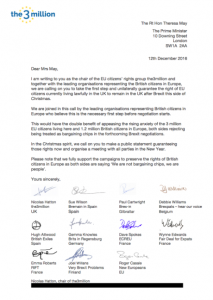 Did it work?
EU citizens were in the UK media all morning (it started with the BBC Radio 4's Today programme) and through the afternoon on print radio, TV and online. 
 A good summary: https://www.euronews.com/2016/12/12/brexit-theresa-may-unmoved-by-appeal-over-eu-nationals
Sky News: https://news.sky.com/video/morally-wrong-to-deny-residency-to-eu-citizens-already-in-the-uk-10693978
Why were EU citizens in the news?
Two things: the British Future report on our future status and our handing in of a letter to No.10
Yesterday, British Future published a report on the future status of EU citizens in the UK after Brexit following a 3-month inquiry lead by Gisela Stuart (chair of the Leave campaign) and a panel of cross party politicians, trade unionists, academics and business leaders.
 The report made 14 recommendations to the Government in order to give a new bespoke Indefinite Leave to Remain to all EU citizens living lawfully in the UK up to when article 50 is triggered. It includes some suggestions for the Government to effectively register the 3 million EU citizens so everyone can stay
Please note that the report only looks at the future status of EU citizens after Brexit. Freedom of Movement was excluded from the scope of the report and therefore, there is no mention of the rules that would apply to future EU citizens coming in to the UK after the cutoff date.
A little more about the report
I'm repeating this summary of the report in case you haven't seen it yet. These are the 14 recommendations made by British Future in its report on the status of EU citizens after Brexit:
1. Cutoff date when Art.50 is triggered to benefit of the following rights:
2. New legislation to convert Permanent Residency (PR) into bespoke Indefinite Leave to Remain (ILR) status
3. EU citizens on the way to PR to have a 5-year transition period from Brexit
4. There are significant differences between PR and ILR ('good character test' english test, salary threshold, cost of application). Bespoke ILR for EU citizens not to exceed cost of passport (£72)
5. Bespoke ILR not to have English test or salary threshold
6 Children in care. Home Office to offer PR and ILR and entitled to legal aid
7. Family migration – 5 year transition period after Brexit to continue family migration.
8. Social and education rights. 5 year transitional period to upkeep right.
9. Pensions uprating for EU citizenship taking their pension in another EEA country
10. Local Authorities (LA) to be first line to approve PR for EU citizens for the same price (£65). More complicated cases to be referred to the Home Office). LA will check HMRC or DWP databases and approx. 1.8m people should see their application processed this way
11. More complex cases passed on to the Home Office to a special dedicated team
12. The Home Office should not refuse PR based on lack of Comprehensive Sickness Insurance *
13. The Home Office to run campaigns to engage EEA nationals and support vulnerable groups though an advice service
14. Offering the above status will create an enormous amount of good-will leaving no choice but for the EU to grant UK citizens in Europe similar rights
 * the entitlement to the free NHS to be considered as fulfilling the CSI requirement for EU citizens
You can read British Future's official statement at https://www.britishfuture.org/articles/eu-nationals-report/