British in Munich group protest outside talks
[Scroll down for German version / Siehe unten für deutsche Fassung]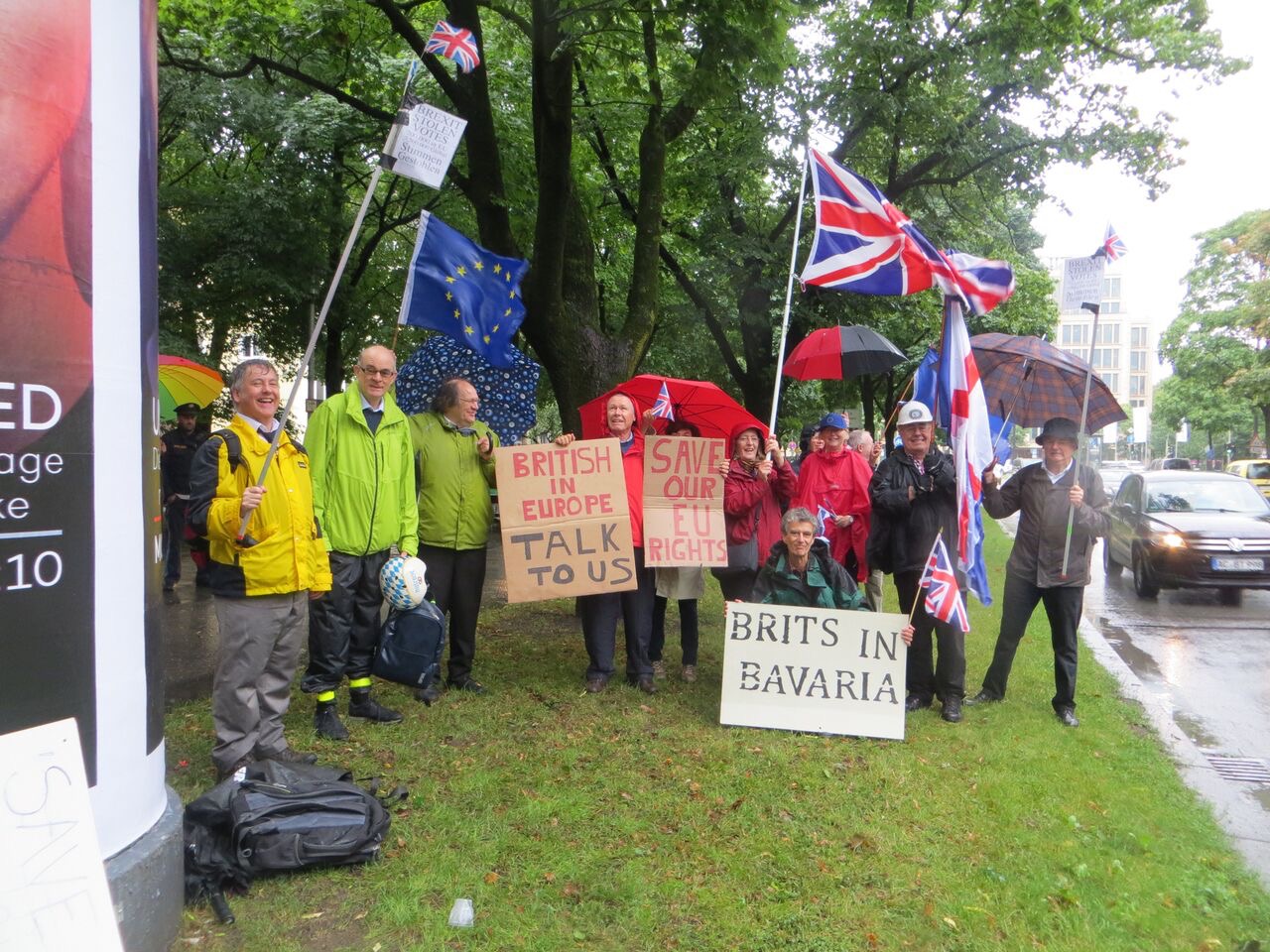 A group of about 20 Brits gathered in the pouring rain outside the Bavarian State Chancellery in Munich yesterday (July 26) to express our dissatisfaction about the Brexit negotiations. Inside were Bavaria´s Minister-President Horst Seehofer and David Davis, Secretary of State for Exiting the EU. What was on the agenda is not known – the press had not been invited and no statement was issued. And the meeting was only announced very shortly before it took place, so the Brits in Munich had little time to get a protest together. The message on their quickly produced posters: Talk to us! Save our EU rights! The UK and EU flags, flying together in the wind, spoke their own language.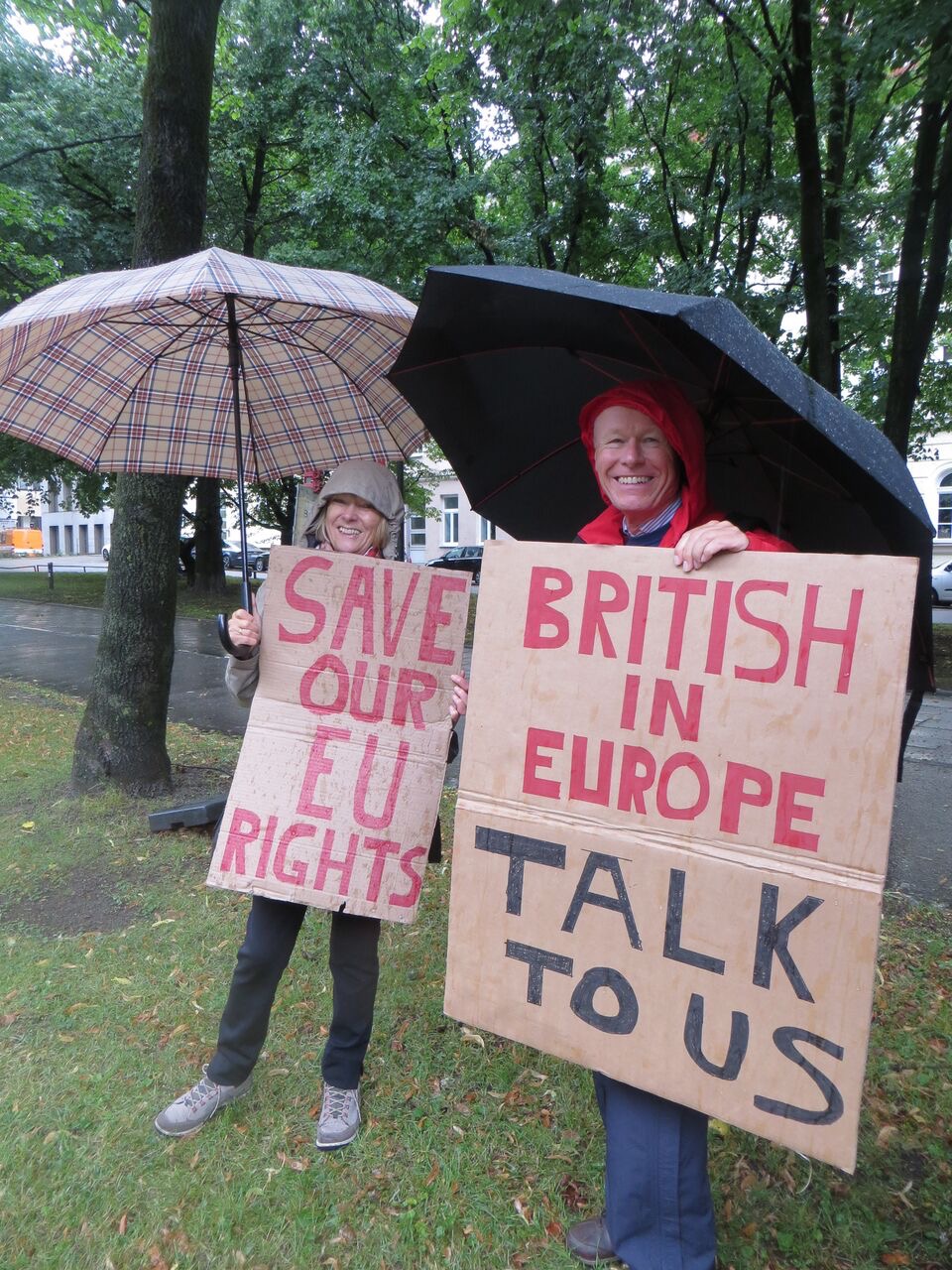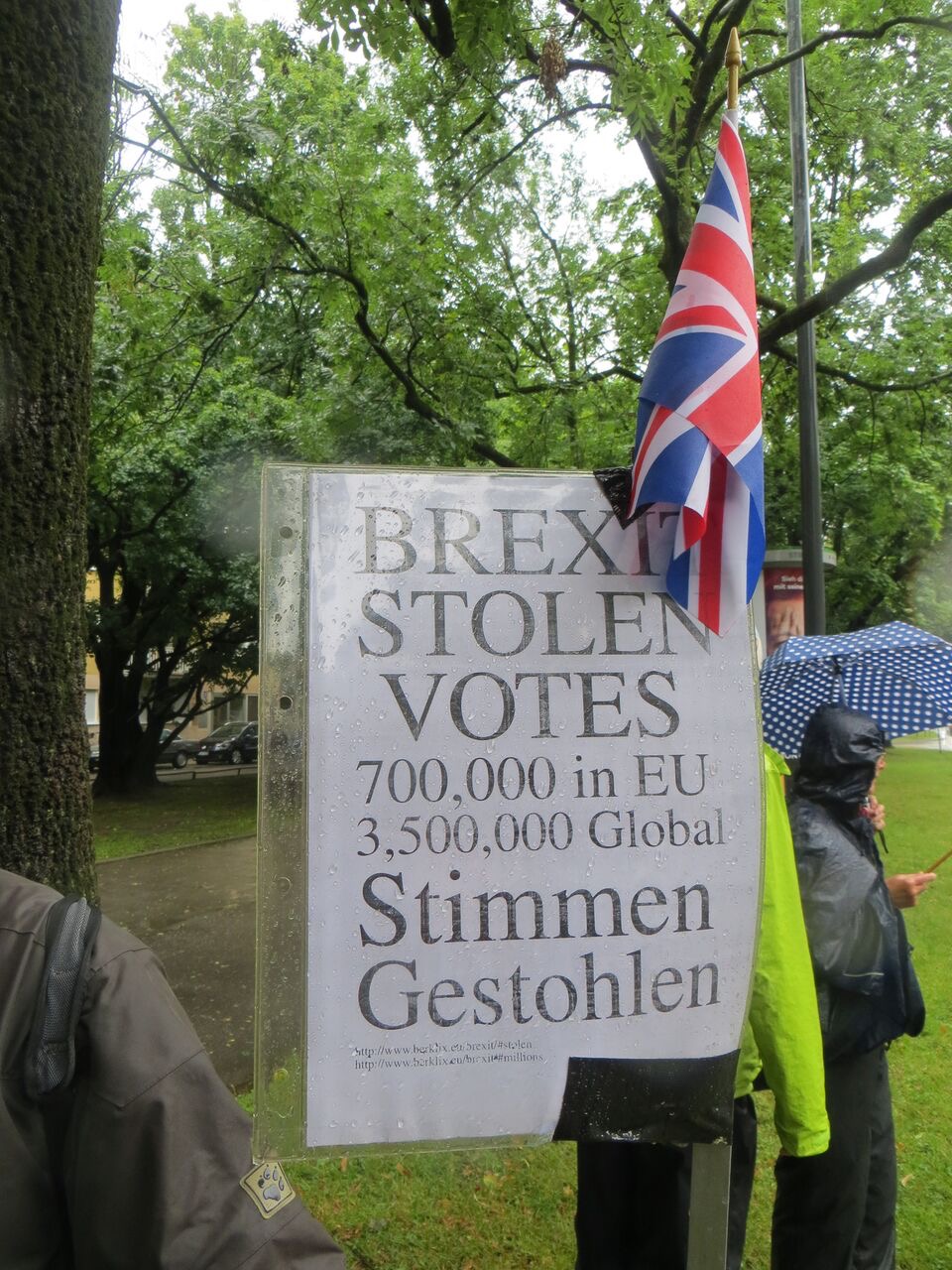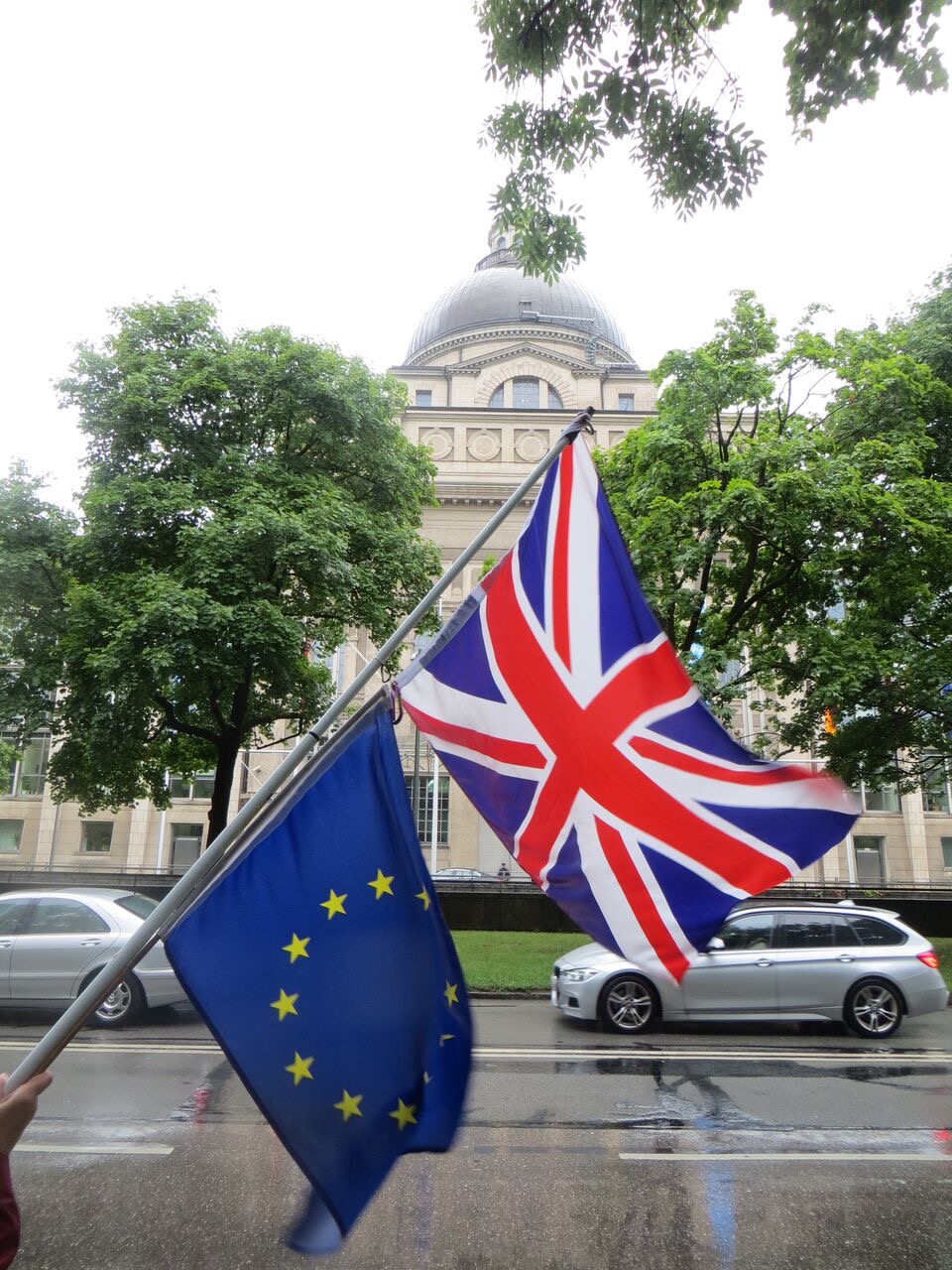 Over 18,000 Brits live and work in Bavaria, and so far there has been very little consultation with us, from either the UK or the German authorities on our concerns as regards Brexit. We would welcome an opportunity – in the dry – to present our views in person.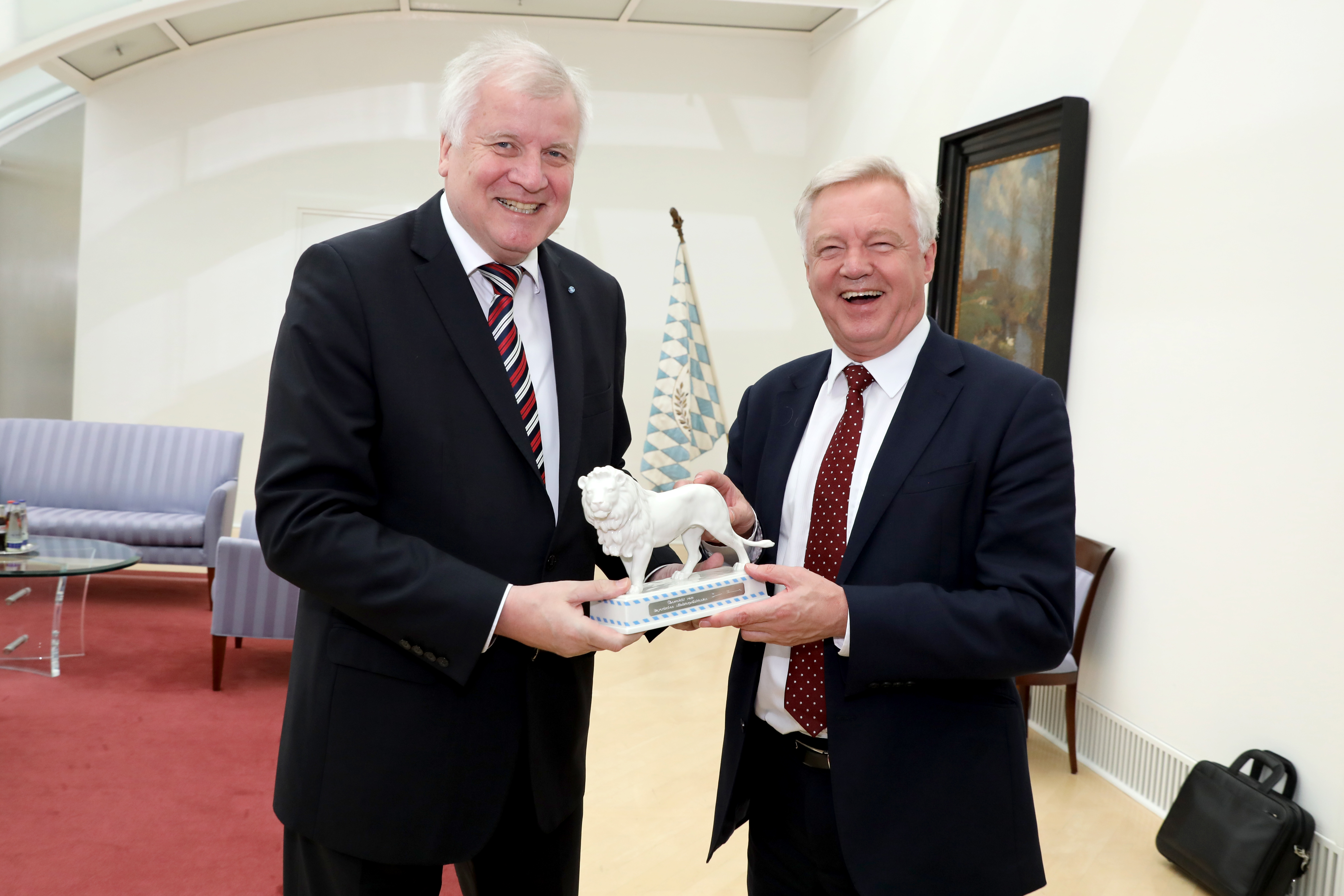 Bei strömendem Regen versammelte sich eine Gruppe von bis zu 20 Briten gestern vor der bayerischen Staatskanzlei, um ihrem Unmut über die Brexitverhandlungen Luft zu lassen. Drinnen saßen Ministerpräsident Seehofer und David Davis, Britischer Minister für den Austritt Großbritanniens aus der EU, zu einem nicht öffentlichen und sehr kurzfristig angekündigten Besuch. Die Botschaft auf den Plakaten der versammelten britischen Bürger in Bayern: Reden Sie mit uns! 18.000 Briten leben und arbeiten in Bayern, und sie sehen ihre EU-Rechte in Gefahr. Die hoch gehaltenen Flaggen sprachen eine unmißverständliche Sprache – sie wollen in der EU bleiben. Die Gruppe erweckte die Aufmerksamkeit der vielen vorbeifahrenden Autofahrer, die ihre Unterstützung mit lautem Hupen signalisierten. Der Gast aus Westminster und der Ministerpräsident haben den Protest sicherlich auch bemerkt, und die Briten hoffen nun auf eine baldige Einladung ins Trockene, wo sie ihre Sorgen und Ängste näher besprechen können.