Beer and Brexit: This was a winning combination for the 40 or so Brits who came along to a beer garden in Munich on Friday, 25 May to talk about the current situation. Rechtsanwalt and Solicitor David Hole delivered a sobering analysis of where we are now and the risks ahead. Then there was a chance to discuss more detailed aspects and ask individual questions in smaller groups.
So, who came along?
A wide cross-section of the local British population: new arrivals and long-standing residents, working and non-working, employed and self-employed, researchers, IT professionals, designers, translators, consultants, with and without family dependents. Age range: 20-ish to 70+. Among them, too, was a growing number of "new Bavarians" – much relieved Brits who have recently obtained German citizenship (while retaining British) to give them greater security for their future in the EU and the UK. With the option of citizenship not on the table for more recent arrivals, interest among that group focused on permanent residence permits. Some are even considering working towards obtaining German citizenship (possible after 8 years of residence) and then giving up their British citizenship (dual citizenship only being permissible while the UK is still in the EU).
What issues were discussed?
Primarily those issues that are still unresolved as per the current version of the draft withdrawal agreement:
Freedom of movement (FoM) across the EU27 post Brexit. Without FoM, young British professionals hoping for an international career in the EU will be seriously disadvantaged.
Mutual recognition of qualifications. Anyone relying on qualifications to carry out their job needs to get informed in good time.
Self-employed + provision of cross-border services.
For the most up-to-date and accurate information on these issues, you can read more at: https://britishineurope.org/where-does-the-march-agreement-leave-me/
And on residency: http://www.remaininfrance.org/citizens-rights.html
 Other concerns
These also reflected the diversity of situations among the Brits present. Specific mention was made of, for example, pensioners and healthcare (S1 forms), fixed-term contracts, the problem of Brits being excluded from future participation in EU-funded projects, European schools and the continued provision of native-English-language teachers, the recognition of the European Baccalaureate and increased fees in UK universities, plus obtaining citizenship for family members with mental health problems, even a petition to the Queen about restoration of voting rights.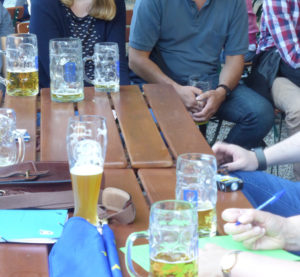 Well, is the glass half full or half empty? Everybody has a different answer. It´s the same with Brexit. Some people have reason to be optimistic. Others will have a bleaker outlook. But staying informed – keeping an eye on the glass – is not a bad thing to do.
Prost!
Ingrid Taylor
British in Bavaria