While the terms of Britain's exit from the EU are still under negotiation, British citizens find themselves in a state of uncertainty with many asking themselves the question: "How will Brexit affect my work, my family and my future in Germany?"
British in Germany, a group dedicated to protecting the rights of British citizens in Germany in the BREXIT negotiations and HM Consul General, Rafe Courage, invite you to catch-up on the latest status of the withdrawal negotiations and to discuss and explore topics such as residency requirements, dual citizenship, freedom of movement, health insurance, pension rights and recognition of professional qualifications.
The event – in English – is primarily aimed at British citizens living in and around Frankfurt. Others concerned about family members and friends are also welcome to attend. Doors will open at 6.45 p.m.
To reserve your place please register at info@britishingermany.org with subject heading 'Frankfurt',
providing your title, name, surname and e-mail address.
You can download the flyer for the event by clicking on the item below: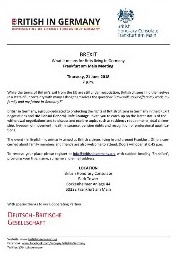 (Image by Christian Wolf, www.c-w-design.de, CC BY-SA 3.0 de, https://commons.wikimedia.org/w/index.php?curid=44448489)
Also see the Event page.