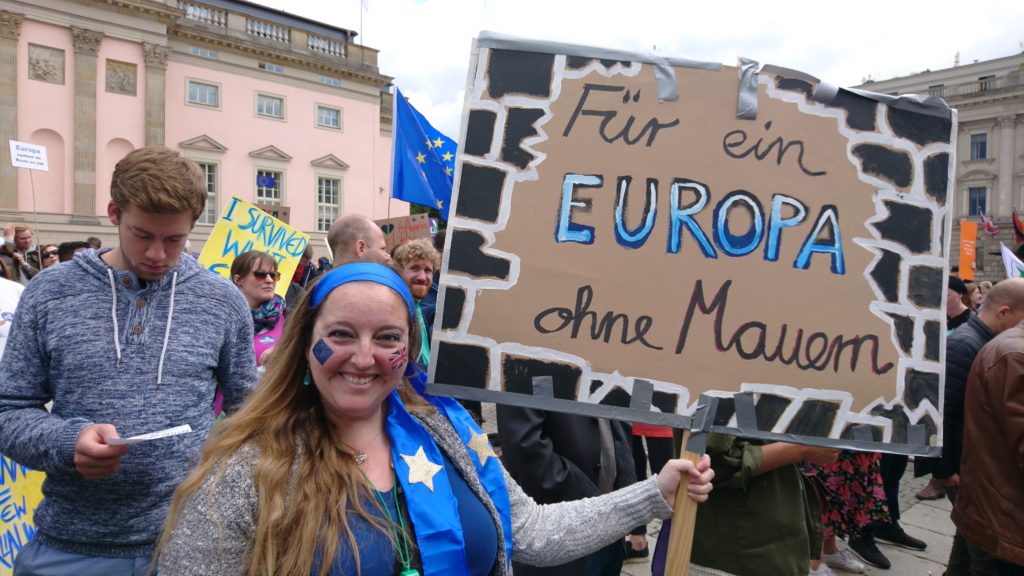 On Saturday 23th June while the People's Vote march was taking place in London, 2000 people gathered before Friedrichstrasse S-Bahn station to march for a New Europe. Amongst the fifty or so official partners was a small group of members from the British in Germany's Berlin section. 'Bedeckt' with EU blue and gold and carrying the placards provided with slogans like "für ein Europa ohne Mauern" – for a Europe without walls.
The atmosphere was positive, happy and peaceful; we even made the policemen smile. Our first stop was the British embassy, here Emma Corris our wonderful intern made a speech about her personal vision for Europe. Was followed by a poem written and performed by Rachel Marriott another British in Germany member. During the speeches we linked up via phone with the Spanish contingent who held a vigil in Madrid. The crowd then waved tissues in a symbol of saying goodbye to the UK while singing we'll meet again. The singing was led spontaneously by Rachel Marriott.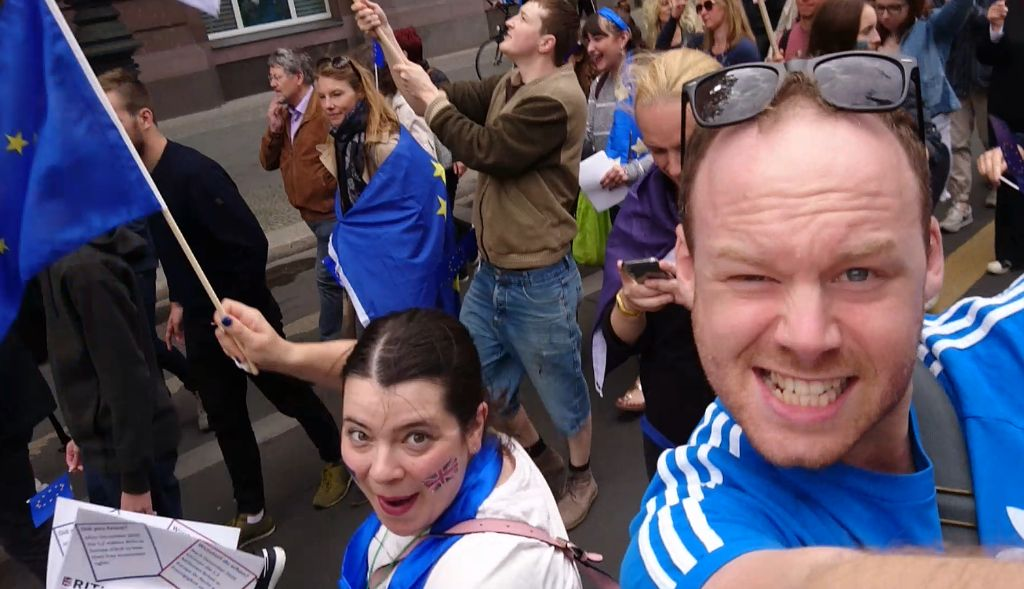 We carried on marching down to Bebelplatz where 22 more European visionaries presented their ideas and thoughts on the future of Europe. This was concluded with a mass signing of an open letter to the chancellor Angela Merkel detailing how we see her future duty to protect and reform Europe. The protest ended with a European viking clap inspired by the Icelandic football fans.
– reporting by Rachel Marriott
Transcript of Emma Corris's speech
We are standing in a city that was divided by a wall not thirty years ago. That wall left scars on a nation, and so too will scars be left on the many British in Europe and the Europeans in the UK, without dual nationality, without permanent residence, who after December 2020 will not be able to leave to visit their loved ones for fear that they might not be allowed to return. Stranded on the wrong side of the wall no matter which side they are standing.

The UK government has a vision, a vision of an invisible glass wall between the UK and Europe, they imagine that Europe will look in at us through our glass wall and wish for what we had, instead we stand to be stranded in our glass bubble watching the world move on while we are prisoners to the past and the fool's dream of what Britain used to be.

The UK government has a vision where their people in Europe will have to choose between their birth nationality and becoming a citizen of their host country, a vision where relationships across borders will struggle to flourish, a vision where a future generation of workers will not be on a level playing field with their European peers still entitled to free movement. A vision by which those who did not get to vote stand to be most affected.

Have we learnt nothing from the past that we are stronger together, not divided?

I have a vision of a future where there are no walls.

Where borders represent only what they are: arbitrary lines.

Where people of different cultures, creeds, and races can choose to live, work, study, and love where they want, standing side to side with others.
I have a vision of A Europe of nations sharing, evolving, improving together, a place where the wars we waged in the last century can never again happen.

A vision of Britain in tandem with Europe, rather than harking back to the bygone days of a country whose 'success' and national identity was built on the systematic oppression and enslavement of nations and cultures around the world. And a past where its female and POC and LGBTQ citizens were treated as inferiors.

I have a vision of multi-lingual children, raised with understanding and appreciation for all cultures and what they each have to offer.

I have a vision of an open Europe, a vision that was the reality of my predecessors, and myself two years ago. A vision that we currently stand to lose.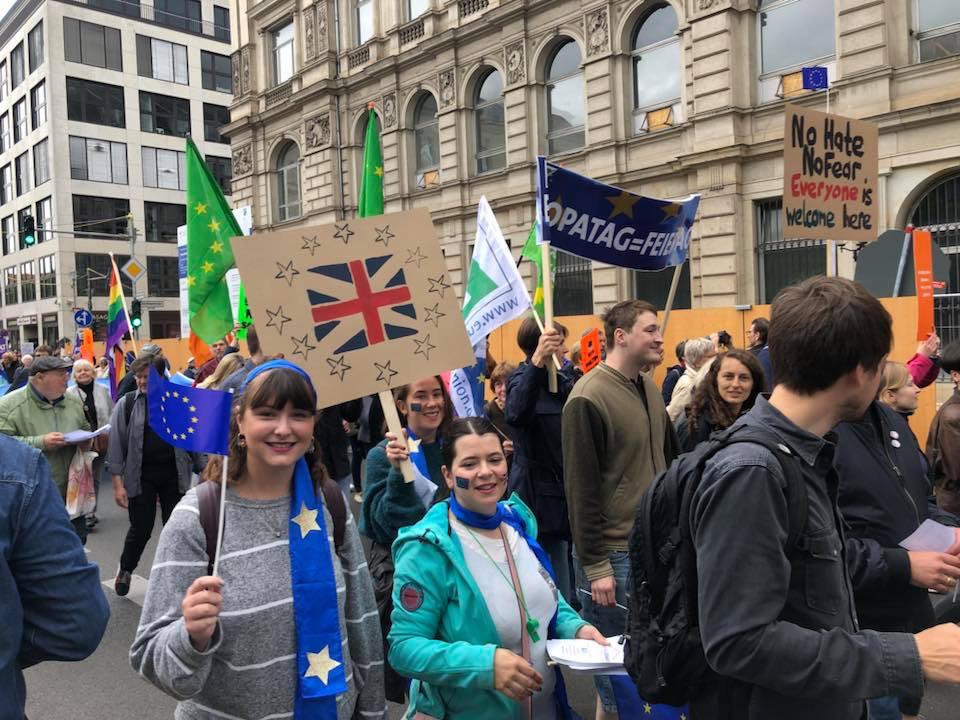 You can also watch a video of the speech on our YouTube channel.
RBB (Berlin's regional channel) also reported on the march (in Germany).