British in Bavaria talk – in English – on BREXIT
Constitutional, Political, Economic and Social Causes
The Referendum and Prospects for a People's Vote
Monday, 8 October, Munich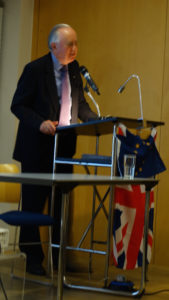 Former UK diplomat Colin Munro treated his audience of 100+ Germans and Brits to a review of how the referendum came about, identifying five major policy miscalculations of the UK government since WW2 as likely root causes, and outlining the deficiencies of the UK´s constitutional and election framework. His recollections and anecdotes of politics and politicians from over four decades of experience in the UK Diplomatic Service were much appreciated by the attendees. Also valuable was his assessment of the many imponderables as we enter the final phase of negotiations – e.g. the prospects for a People´s Vote or a new general election, the extremes of the Conservative and Labour parties, the role of Westminster, the Scottish Parliament and the Northern Irish Assembly, and the Irish border problem.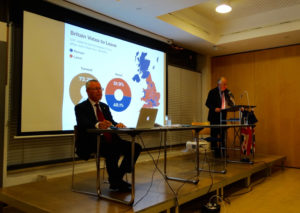 The historical perspective Colin delivered and his expert analysis of recent referenda (Margaret Thatcher: "a device of demagogues and dictators") provided important context. As did his reminder that the European Union, imperfect as it still may be, has brought immense benefit to the people of Europe in terms of peace and stability.
In the Q&As after his talk, Colin was impressed with the quality of the questions from the well informed audience.
Colin Munro lives in Vienna. He is the founder of UKCA, UK Citizens in Austria, which organises events to support Brits based in Austria.
The text and accompanying slides from his talk is available on the UK Citizens in Austria site.
Images (c) Sue McInerney and Ingrid Taylor