"Ich glaub nicht, dass ich rausgeworfen werde."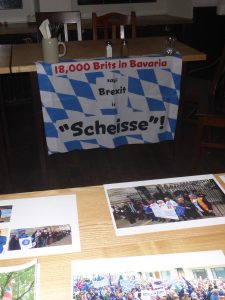 With the threat of a "no deal" looming ever larger, about 50 Brits in Munich gathered on Monday evening, 26 November, for a Stammtisch entitled "End Game – Are you ready?".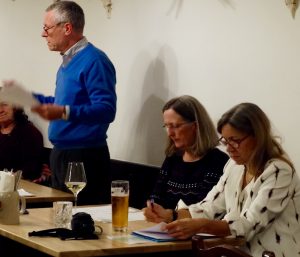 A journalist and a photographer from the Süddeutsche Zeitung came along to report on our concerns at this critical point in the Brexit process. Worries centred on residence status post Brexit, loss of onward freedom of movement, healthcare costs, citizenship and family reunion. Comparisons were also drawn with the plight of EU citizens in the UK.
The organising team of British in Bavaria gave updates on the main themes, reporting on recent lobbying activities and urging all Brits to consult the "no deal checklist" on the British in Germany website. Then followed a Q&A session and an exchange of views on what happens next.
The article from the Süddeutsche Zeitung can be access by clicking on their icon below: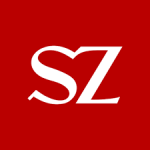 The latest British in Bavaria Newsletter is also available and can be downloaded below.

Images (c) – Clive Ashbolt