Adam Takar, one of the British in Germany Interns, reports on the recent InfoAbend in Bremen.
Last Tuesday, the British Embassy held a citizens' info event in the Bremen Chamber of Commerce with British in Germany e.V. and the Migrationsamt. The night kicked off with drinks and discussion, where Brits got to meet and get to know each other. Although Daniel and I arrived late thanks to a sudden train cancellation (so much for the famed German efficiency), Daniel Tetlow nevertheless made up for it with a well-received speech. The Embassy, though their hands are still tied, could not offer much in the way of any new information or reassurance beyond the same line they have been towing over the past few months; that they are unsure of what will happen in the event of a no deal, and that they can only provide guidance on what should be done as stated in the draft Withdrawal Agreement.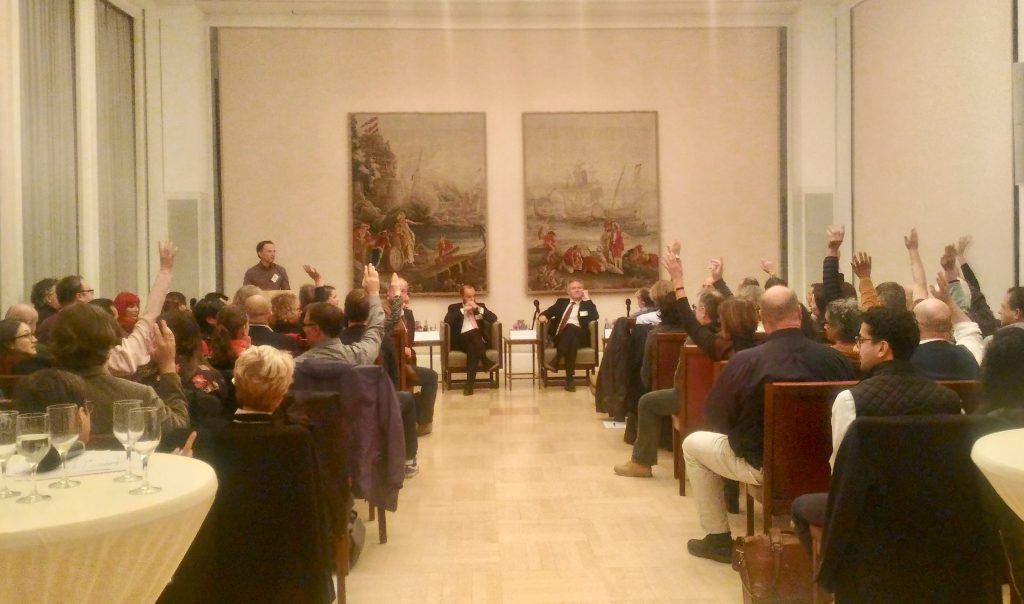 Fortunately, despite it being last minute, I was asked to speak too during BiG's speech, making up for the fact I was not able to as part of the mass lobby on the 5th. I'd never done anything quite like this before, so was a little shaky getting up on the podium, and, though I was perhaps a little less well-versed in public-speaking than Daniel, it was a worthwhile experience to put a smile on some of the audience's faces. A young voice has been largely missing from the Brexit debates and negotiations in Britain so far, and thus BiG offering Connie and me to actually speak in a public setting has been something we are both very grateful for.
Following the speeches, came the Q&A, which focused predominantly on issues of overseas housing, what Germany's policies will be post-Brexit day (no more information here as of when I'm writing), healthcare, voter registration and pet passports, an issue surprisingly never asked about previously. Prisca Merz of the Embassy was extremely helpful as always giving citizens an update of the current situation, but, as we can expect, not many concrete answers could really be given at the time, e.g. that economically inactive Britons in the EU will be able to claim healthcare costs from the NHS if there is a deal, and that pet passports may have new requirements in the event of a no deal etc. In short, answers tended to be more conditional than definite.
British in Germany has, as a result of the event, managed to raise €135 from donations, which, as always, we are extremely appreciative of. We got to know several more Brits in Germany, and we'd invite anyone who hasn't, to either become a member, or send us a donation. In this especially turbulent political climate, all the support you can give is much appreciated to ensure that we can continue preserving British citizens' rights here in Germany. We have even featured in local news as a result of the event: 
Finally, for any Brits in and around Bremen, we would love to invite you to our first Stammtisch event! This will be a more relaxed evening where you can meet fellow Brits and discuss the latest developments re: Brexit. We look forward to seeing you at Loft (Bahnhofspl. 5, Bremen – above Paddy's) from 19:30 on Wednesday 28th November.
If there are any remaining questions that could have been asked, feel free to email us at info@britishingermany.org and we will do our best to try and help you.