As part of British in Germany's first nationwide Stammtisch, UK nationals met in around 20 different locations (see below for list) on Wednesday, 12 December. While the date was chosen specifically to follow the meaningful vote in Parliament, a last-minute postponement brought about a shift in focus. Fortunately – or rather unfortunately – UK politics is the gift that keeps on giving and one vote was quickly replaced for another (a no confidence vote in Theresa May by the Conservatives). Certainly there was no shortage of news to talk about, but most of it was very unsettling!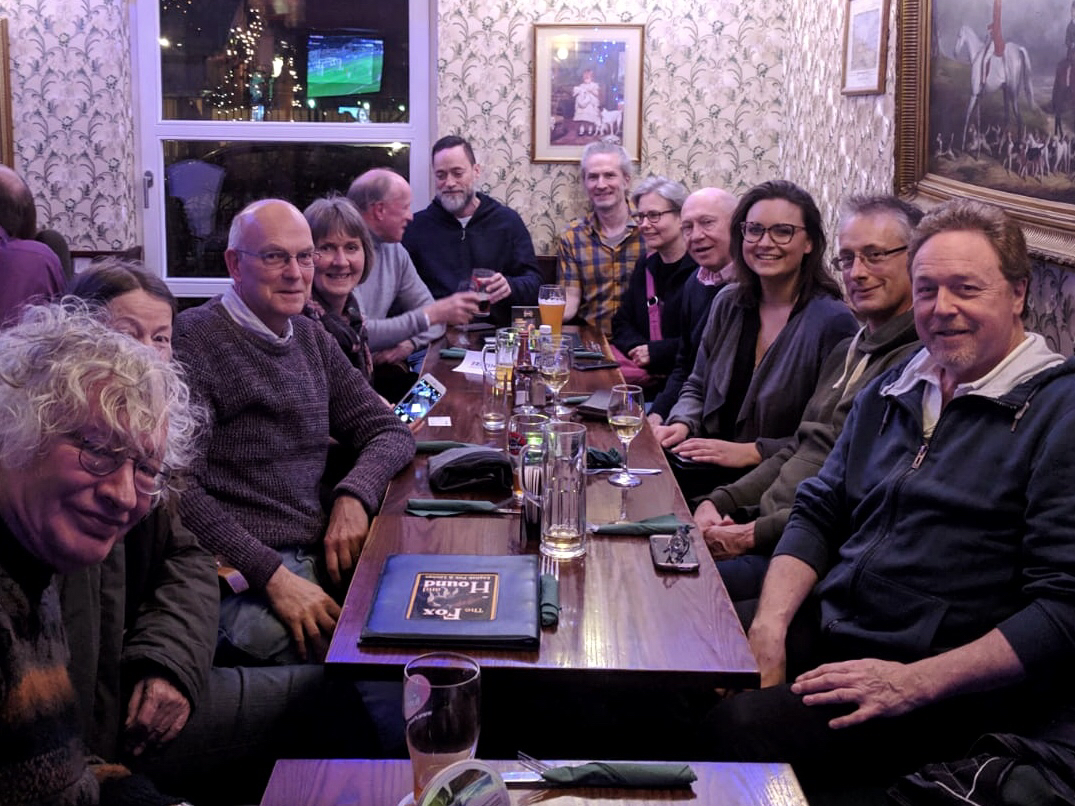 Whether the groups consisted of five or thirty people, conversation flowed as easily as the local beer. Participants were keen to discuss the scenarios that could unfold in the coming weeks, though nobody was brave enough to place bets. Although two of the Bavarian Stammtische did envisage a last-minute intervention by the Queen!
In Frankfurt there was a shared feeling of resignation and concern that the plight of citizens was being swept under the carpet in what is perceived to be a game of political poker. A number of other groups expressed fears for peace and economic stability in Europe in the light of Brexit.
Aside from the uncertainties of deal or no deal, attention focused on practical issues and what UK nationals can do to safeguard their positions now. The no-deal checklist provided by British in Germany e.V. prompted some to set off the next day to exchange their UK driving licences for a German one and others to file their German citizenship application.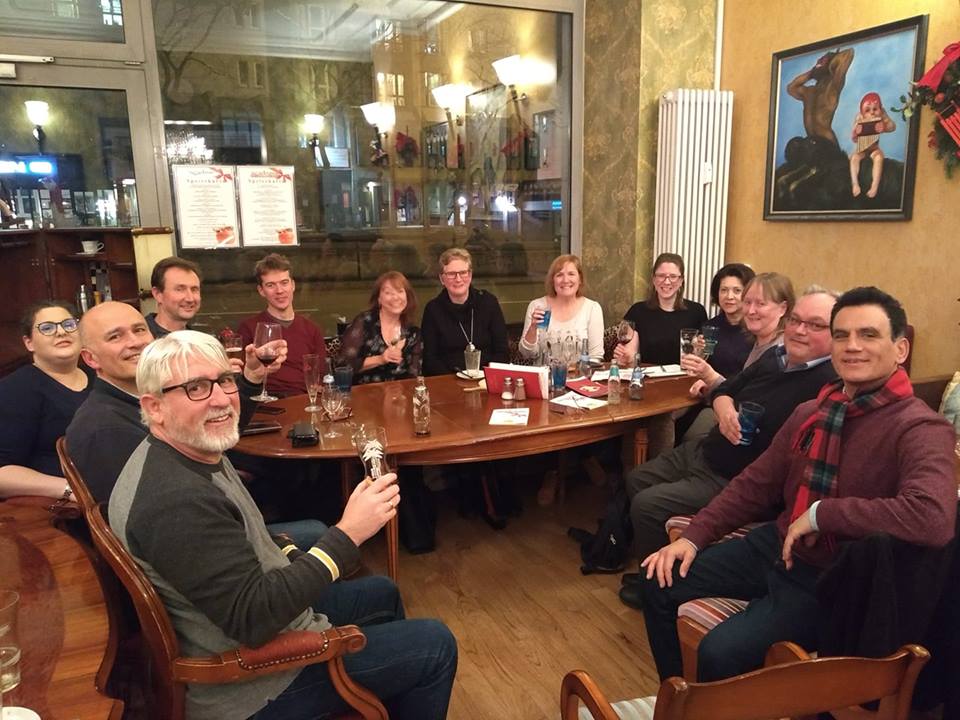 Questions were raised about UK bank accounts and securing favourable exchange rates, participants using the Stammtische to share their experiences with alternative mobile banking apps. In Ottobrunn, David Hole talked about the introduction of registration requirements for Brits in Germany post Brexit: "UK nationals will be required to register in some manner; the exact process and deadlines are yet to be announced."
A Bavarian official, who was also invited along to Ottobrunn, concurred and assured us that this process would be kept as simple as possible. Issues relating to dual citizenship applications were also raised – and some wanted to know how to challenge negative decisions.
Towards the end of the evening the result of the confidence vote in Theresa May came through – one more twist in this ongoing saga. What´s the next going to be? On the whole, however, Brits in Germany overall appear to have faith in the German authorities to do the right thing by the UK nationals living here. But until the road ahead is clear, British in Germany e.V. will be monitoring further developments closely, to be discussed at the next round of Stammtisch gatherings in the New Year.
German TV and radio showed a keen interest in this nationwide Stammtisch initiative. The TV channel ZDF interviewed the group in Düsseldorf, and Fritzradio did a report on the group in Berlin.
Click here to watch ZDF TV Report
British in Germany would like to thank all volunteers who played a pivotal role in making the first nationwide Stammtisch a resounding success. We encourage you to look out for more information on the next Stammtische near to you, for example in Bamberg, Berlin, Bremen, Cologne, Düsseldorf, Eberstadt, Frankfurt, Hamburg, Hannover, Leipzig, Magdeburg, Mainz, Miesbach, Munich, Ottobrunn, Nuremberg, Potsdam, Stuttgart, Trier.
Many thanks goes to the BiG Events team for organising the nationwide event:  Amanda Diel, Ingrid Taylor and Connie Simms. 
If you would like to set up a Stammtisch in your area or join in this next nationwide Stammtisch movement, please feel free to contact us at info@britishingermany.org.
Stammtisch were held in the following locations:
Bamberg
Fässla Keller
Moosstraße 32, 96050 Bamberg, Germany
19:30
Berlin
Brewdog Berlin Mitte
Ackerstraße 29, 10115 Berlin
19:30
* Due to a limited amount of places, please RSVP to this event by email by Sunday at 5PM if you wish to attend.
Bremen
Loft Bremen
Bahnhofsplatz 5-7, 28195 Bremen, Germany
19:30
Cologne
The Corkonian Irish Pub
Altermarkt 51, 50667 Cologne, Germany
19:00
Düsseldorf
Motel One Düsseldorf – Hauptbahnhof
Immermannstraße 54, 40210 Düsseldorf, Germany
20:00
Frankfurt
The Fox and Hound
Niedenau Str 2, 60325 Frankfurt, Germany
19:00
Hamburg
Weihnachtsmarkt am Gänsemarkt
Gänsemarkt, 20354 Hamburg, Germany
19:00
Heidelberg
Infoabend on the 13th of December
Stadtbücherei Heidelberg
Poststraße 15, 69115 Heidelberg
18:00
Leipzig
Restaurant Andria
Nikolaistraße 22, 04109 Leipzig
19:00 (if you can arrive at least 10 mins early to allow numbers to be gauged that would be useful)
Magdeburg
Café Central Magdeburg
Sternstraße 30, 39104, Magdeburg, Germany
19:00
Mainz
Me and all Hotels
Binger Straße 23, 55131
19:00
Miesbach
Schützenwirt Miesbach
Am Windfeld 23, 83714 Miesbach
19:00
Munich (2 Stammtische)
1. Ayinger Ottobrunn – Das Wirtshaus am Rathausplatz
Rathausplatz 2, 85521 Ottobrunn
19:00
2. Gaststätte Rumpler
Baumstraße 21, 80469 München
19:30
Nuremberg
Adina Apartment Hotel
Dr Kurt Schumacher Str 1-7, 90402 Nürnberg
19:00
Seeheim – Jugenheim
Das Laternchen
Bergstraße 19, 64342
20:00
* On the 11th of December not the 12th!
Stuttgart
Christmas Drinks Gathering on the 13th of December
Academie der Schönen Künste
Charlottenstraße 5, 70173 Stuttgart, Germany
19:00
Wittlich
Der Italiener da Marco Alt
Kurfürstenstr. 47, 54516 Wittlich
19:00