First and foremost, the German government has been emphatic in their assurance that post Brexit, UK nationals will

be allowed to carry on living and working here in both deal and no deal scenarios.
Who spoke, when and where?  (video link below)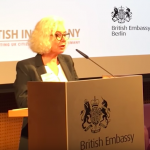 An Information Evening was held in Berlin on 18th December, hosted by the British Embassy and addressed by Sir Sebastian Wood, British Ambassador, Jane Golding, Co-Chair of British in Europe and Chair of British in Germany, Engelhard Mazanke, Head of the Berlin Foreigners' Registration Office (Ausländerbehörde), and Christoph Wolfrum, EU Policy and Strategy Unit of the Federal German Foreign Office (Auswärtiges Amt). Christoph Wolfrum explained how the German government is preparing for both deal and no deal scenarios.
Deal Scenario: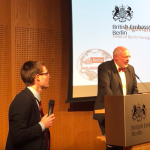 In the case of a deal and ratification of the proposed Withdrawal Agreement, Germany plans to have an application or constitutive system.  This means that British citizens will need to apply for the relevant status, subject to the conditions and provisions set out in the Withdrawal agreement. However, during the transition period planned to last until at least 31 December 2020 our status (other than voting rights) will remain as it is now. That's all dependent on some form of Withdrawal agreement being agreed.
No Deal Scenario: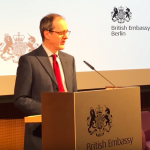 Following on from the European Commission´s Contingency Action Plan published on 13 November, the German government is now starting to put its no-deal plan together. Part of that is to introduce measures to ensure UK nationals in Germany can continue to live and work here legally after 29 March 2019. Mr. Wolfrum explained that, in the case of no deal, a ministerial decree would be adopted and British citizens would have a three month transition period post March 2019 during which they would be exempt from needing whichever new status would ultimately apply to UK citizens in Germany. UK citizens would need to apply for the new status with applications to be processed by end 2019 latest – it is not yet clear what that would be but it would be a third country national status, given Brexit is taking us out of the EU.
What Berlin has said: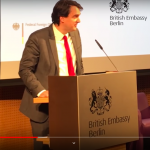 Engelhard Mazanke, Head of the Berlin Foreigners' Registration Office, set out what process the State of Berlin is planning for UK nationals resident in Berlin in case of a no-deal. In January 2019 his office will be launching an online system to provide for voluntary "registration" on the Ausländerbehörde website.  Based on that registration the Ausländerbehörde will then issue a certificate confirming that the individuals were resident in Berlin before March 2019. 
What is British in Germany doing now?
The British in Germany team is currently seeking clarification on a number of questions raised by the Berlin proposals, as well as the proposals outlined by the Auswärtiges Amt. The proposals on the process described above only apply to Berlin but we are also seeking information on what other Länder are planning.  In addition, British in Europe/British in Germany together with the3million, have already requested meetings with both the Brexit team in the Auswärtiges Amt and the office of Heiko Maas (Foreign Minister) for early January in anticipation of more public information about Germany's plans and we have been informed that both offices will propose dates shortly.  More information on this website as soon as we have it.
Video link to the event:
Here´s the video link with all the speeches given that evening. Jane Golding speaks from 27:10. Mr Wolfrum from the German Foreign Ministry (which has a steering role in the Brexit process in Germany) starts speaking at 19:09 and Mr Mazanke, Head of the Foreigners´ Office of Berlin, speaks from 39:00 onwards.
We will continue to work for the rights of UK citizens living in Germany and do all we can to keep you across the changes that will affect our lives in the coming months and years.
Please, if you are able, support our work here, or consider giving membership to BiG as a Christmas gift at this critical moment in all our lives.
Best wishes and a very Happy Christmas.
British in Germany. e.V.