It has been an exhausting few weeks and it has been very difficult to know what we should report here as it has changed from hour to hour.
Today, Wednesday 27 March, the UK Parliament will be going rogue and having taken control of the Order Paper will be debating and conducting indicative votes on a set of proposals in an attempt to unblock the Brexit logjam.
We do not know which options the Speaker will select but they are likely to range from No-Deal to Revoke Article 50 and every possible option in between.
Which brings us to the second item. The Petition to Revoke Article 50. Created by Margaret Georgiadou, 77, she can hardly have believed the attention the Petition would receive.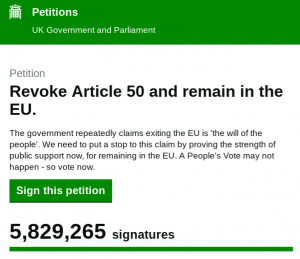 Although revoking Article 50 is an improbable outcome it is still important to sign it in order to put pressure on MPs to consider other relationships the UK could have with the EU in the event that the UK does leave.
At the time of writing the Petition stands at over 5,800,000. Click on the image to add your vote! Remember you can vote if you are a UK National even if you are living abroad or a foreign National living in the UK.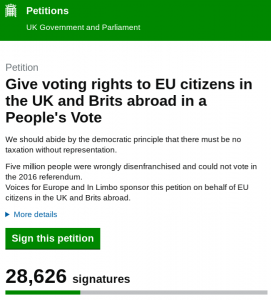 If you are still hungry to sign more petitions then consider the one to allow all British citizens to vote should there be a new referendum on Brexit.
Sadly the Private Member's Bill to implement Votes for Life was "talked out" – as often occurs to bills not part of the Government programme. The petition requests that in the event of a new referendum British citizens living abroad are not excluded from voting on a matter that greatly affects their lives as happened in 2016. Again click the image to be taken to the petitions website.