Sara Gordon reports on pro democracy demonstration which took place in Berlin last weekend.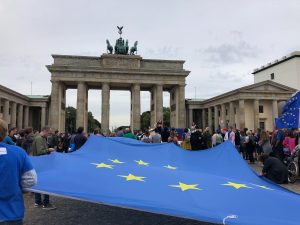 On Saturday representatives from British in Germany joined grassroots organisation Stop the Coup Berlin, also supported by Pulse of Europe, to defend British democracy in the face of the current government's attempts to push through a no-deal Brexit.
Many Brits living in Germany along with the vast majority of EU citizens living in the UK were not able to vote in the referendum, a decision that will detrimentally affect our lives and futures. The threat of a no-deal Brexit has caused fear, anger and distress, compounded by stressful cliff-edge situations and the threats to democracy in the UK government under Boris Johnson. Many in British in Germany face uncertainty until they are granted some form of residence permit, and many will not be able to apply until Brexit happens. Brits elsewhere in the EU may be even less fortunate. A disorderly Brexit could make them illegal overnight – resulting in traumatic chaos.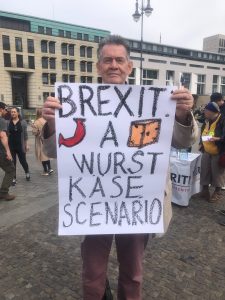 Aware of the potential consequences of a disorderly Brexit both here in Germany and back in the UK, Brits and EU citizens banded together to form Stop the Coup Berlin. Following on from smaller protest on 31 August, a core of seven people went to work, lost lots of sleep, and organised a larger demonstration on Pariser Platz directly in front of the Brandenburg Gate on Saturday 7th September. 
Speakers included MEP Sergey Lagodlnsky (Bündnis 90/die Grünen), who spoke about the importance of democracy; Berlin-based British political commentator Jon Worth, who shared his analysis of recent events; Daniel Tetlow of British in Germany, who spoke about citizen rights, academic Prof. Dr. Mareike Kleine (LSE / Freie Universität), who spoke about what happens when democracies go bad; newlywed British-born German Rachel Marriott who detailed some of the experiences of Brits living in Germany in the face of Brexit. This was followed by a brief open-mic session, followed by Scottish stand-up comedian Neil Numb who added his lighter-hearted take on all this. 

The whole event was accompanied by local musicians Espin and the Noisses, the highlight of which was perhaps the duet set of EU-inspired songs by Noisses' singer Lucy Stubley and Espin, including "Nothing compares to EU".
The protest was a resounding success! At peak, we counted 150 attendees and collected over 220 signatures for the letter to Ambassador Sir Sebastian Wood, which was delivered to a representative on the day by coordinator Rose Newell and logistics man Maurice Bennet. 
Depending on events over the next few weeks, British in Germany will continue to coordinate with Stop the Coup Berlin and Pulse of Europe on the best way to proceed. It is highly likely that another demonstration will be organised in the near future. 
We would like to thank all that attended the demonstration and encourage more to come out next time! 
Until then, we encourage you to visit the British in Germany Berlin Stammtisch this Saturday (14th September) at BrewDog Mitte (1 to 5 pm) and keep in touch via Facebook, Twitter and email. 
Images (c) Sara Gordon, 2019
The event was cover by several media outlets. Here are a few links to their reporting:
Reuters: Demonstrators protest against no-deal Brexit in central Berlin
Berlin Spectator: British Expatriates Stage Protest Against Brexit
For more about Stop the Coup see their website.
Sara was also interviewed by the Guardian recently in their article 'A beautiful dream destroyed': Britons in EU on no-deal Brexit