The British Embassy runs InfoAbends and Facebook Q&A Sessions for those with questions regarding Brexit.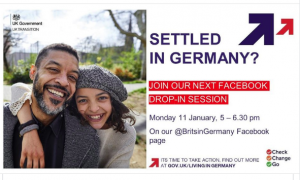 The most recent scheduled Facebook Q&A Session was held on Monday 11 January 2021, 5pm – 6.30pm.
You can see questions and answers here Embassy Facebook Q&A, 11 Jan .
More information regarding Embassy Events and the results of previous Facebook Q&A session can be found on the UK Government Website.
Image: By Jean-Pierre Dalbéra from Paris, France – L'Ambassade du Royaume-Uni (Berlin), CC BY 2.0, https://commons.wikimedia.org/w/index.php?curid=6791741