Do you live in Hamburg, Bremen, Niedersachsen or Nordrhein-Westfalen?
If you have questions about your rights in Germany and about getting a residence document under the Withdrawal Agreement, you can join a live event on Tuesday 23rd March hosted by SSAFA and the British Embassy, Berlin, for all UK Nationals living in these four federal states.
The event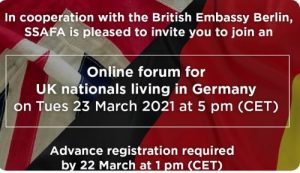 runs from at 5-6:30pm on Tuesday. But you need to register by 1pm on Monday 22nd March, so sign up as soon as possible here to reserve your place.
Please let other UK nationals in Germany know about the event by sharing this post.
For more about residency in Germany after Brexit residency-in-germany-after-transition
More information about support from SSAFA can be found here
For UK citizens in the other Bundesländer, IOM provides support. You can find more information here.