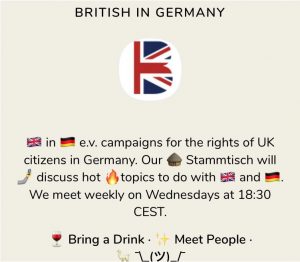 A few weeks ago, some of the social media team at British in Germany e.V. tested a new app called Clubhouse. Clubhouse is an app where people can meet and discuss different topics in a drop-in audio conference setting.
Why did we choose to do this? In our social-media groups we found that many people have been missing the local Stammtische and contact to other Brits. There have also been many questions coming up again and again in the Facebook groups. We want to provide a place where we can discuss different themes and topics about being British in Germany.
Discussions thus far have covered:
Introduction session / How does Clubhouse work? / Welcome
Residency and Citizenship
British and German foods, which is the "wurst"?
Family differences
Current situation in Germany vs. the UK (residency, travel, lockdown, etc)
Hosts on British in Germany Clubhouse are Ellie, Will and Sara who are based in Hamburg and Berlin.
Note that this is not an advice session, but simply an opportunity to get together informally and share experiences and ideas.  Please bring your ideas and consider stepping on stage to share your thoughts in our discussion.
Join us in our weekly meetings on Wednesday at 18:30 German time on Clubhouse. More information under the events post on British in Germany e.V. Facebook.
If you are already on the platform, please join our club and you'll get notifications for our upcoming events.
If you have an iPhone / iPad but do not yet have a Clubhouse App account, please contact us under the events post on British in Germany e.V. Facebook for an invitation.
Please note that at this time Clubhouse is only officially offered on iPhones and iPads. We are hopeful that this will change soon. As this is an informal get-together there will be no minutes officially taken or published.
We look forward to having many of you join and to hearing your thoughts on the week's topic.
By Sara Gordon.
For more information about residency in Germany under the Withdrawal Agreement click here.
For more information about Withdrawal Agreement rights in general see the British in Europe publications here.
Want to let us know what is happening? To complete a survey click here.
British in Germany e.V.  is solely run by volunteers giving their time and support to the organisation for free.   We'd welcome your support and/or membership for a mere 15 Euros a year. You can find more information here. 
Image from Pixabay.