The British Embassy is running another  Facebook Q&A Sessions for those with questions regarding Brexit and Covid-19 challenges.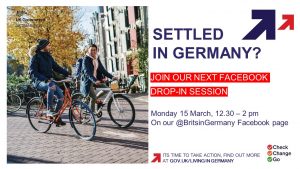 Send them your questions next Monday, 15 March 2021, between 12.30 and 2 pm (CET)  on their Facebook page – Brits in Germany.
They will respond to your questions by Monday 22 March 2021.
Please note:
– They will open the Drop-In session in a new post on their Facebook page at 12.30 pm on Monday 15 March. You will have until 2 pm to submit your question
– Information you share is visible to everyone – please keep that in mind if you are posting personal information
Any UK national in need of urgent assistance can contact the consular team 24/7 via their contact form.
Please let other UK nationals in Germany know about this event by sharing this post.
More information regarding Embassy Events and the results of previous Facebook Q&A session can be found on the UK Government Website.
Image: By Jean-Pierre Dalbéra from Paris, France – L'Ambassade du Royaume-Uni (Berlin), CC BY 2.0, https://commons.wikimedia.org/w/index.php?curid=6791741