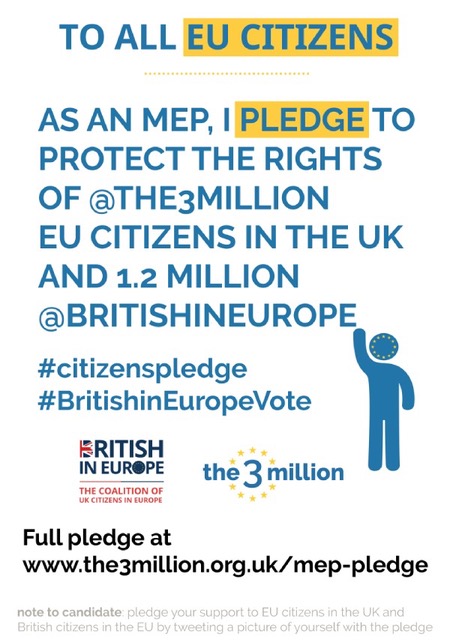 British in Germany urges everyone to use their right to vote in the European Parliament elections on 23-26 May. Together with British in Europe and the3million, we encourage you to contact MEP candidates in your region (whether in the UK or other EU country) and ask them to sign the pledge to keep citizens' rights on the agenda and guarantee our rights fully in the next European Parliament. If you are meeting any candidates at hustings or other European election events, please ask them to sign the pledge!
If you have decided to vote in the UK:
Click here to write to your existing UK MEP https://www.writetothem.com
Click here to see the list of candidates in your region (UK) https://whocanivotefor.co.uk
The pledge:
As a candidate for the European Parliament elections 2019:
I support a commitment before the October deadline to safeguard citizens' rights at EU/UK level, whatever the outcome of Brexit.

I support a strong stance by the European Parliament on the protection of citizens' rights in any negotiations on a future EU/UK relationship.

I support freedom of movement, and will conduct an honest debate to explain the opportunities it has given people across Europe and ensure this right is protected in the next European Parliament.
Ask your MEP candidate to tweet a photo of themselves with a printout of the pledge below to @the3million, @britishineurope and @britishingermany
#thecitizenspledge #BritishinEuropeVote #BritishinGermanyvote
Further information:
The pledge is aimed mostly at British MEP candidates but can be endorsed by MEP candidates from other EU27 countries to support protecting the rights of EU citizens in the UK and British citizens in the EU27.
For further detail on how to secure rights by the October deadline, see https://bit.ly/t3m_BiE_April2019.
British in Germany does not endorse individual candidates or any political parties.
Note to candidates:
Please take a picture of yourself with the pledge on a tablet or on paper and tweet it.
We suggest you use the wording below:
As an MEP I will protect the rights of @the3million EU citizens in UK and 1.2 million @BritishinEurope #citizenspledge #the3millionvote
If you want to check out who has signed so far, you can visit the Signatories page.